Lost Coast Outpost Eco News Article and Radio Show
Here's a link to a great half-hour radio show our 3 guys did.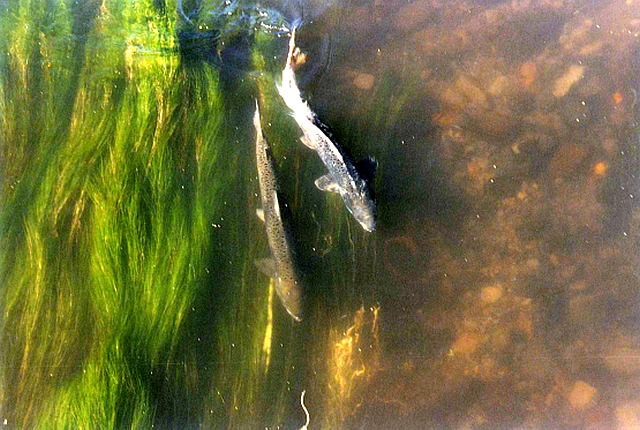 A Safe Harbor Agreement is intended to protect endangered species…but the SHA currently underway on the Shasta River is deeply flawed and is a giveaway of public funds to a handful of landowners in exchange for minimal habitat improvements for the endangered species.
By our own and other organizations' assessments, its main outcome will in reality be to prevent the substantive measures needed for coho salmon recovery, and worse, will serve as a precedent-setting template for similar smokescreen, greenwashing efforts around the nation. NOAA Fisheries is already promoting similar SHAs in California.
Who
National Oceanic & Atmospheric Administration (NOAA)
National Marine Fisheries Service (NMFS)
California Department of Fish & Wildlife (CDFW)
14 Shasta Valley entities: 11 private properties, 2 irrigation districts, and a CDFW landholding
What
8 years of secret negotiations with Shasta River water diverters
Gag agreement prevented all participants, including public agency staff, from discussing this, even with their own agency colleagues during entire 8 years of development
Tax monies will go to ranch improvements like irrigation pipes & systems
Water diverters agree to make some small improvements for fish habitat
Current excessive & destructive irrigation practices are then protected in place for 20 years
Why we're concerned
The SHA concept could be a valuable tool in the Endangered Species Act (ESA)
Intended to help sincere landowners protect ESA-listed species on their property
Landowners voluntarily agree to enhance, restore, or maintain habitat
In exchange, landowners are then legally shielded from any further bother about the species on their property
The way this Shasta River SHA has been negotiated promotes the illusion of progress, letting agencies and water diverters off the hook, while avoiding the uncomfortable changes that are actually needed to promote coho salmon recovery. Certainly, in letting water diverters off the hook, the agencies are letting themselves off the hook too.