About the Shasta River
For thousands of years, since the last ice age, the Shasta River was where up to half of all salmon returning to the entire Klamath and Trinity watersheds came back to spawn.
The foundation of that phenomenal productivity still exists. The glacier-fed springs of Mount Shasta together with cold clear snow-melt from Mount Eddy, the highest mountain in the Klamath range, combine to create the Shasta River — a river with the right balance of low velocity, perfect temperatures and the key nutrients needed to create ideal spawning habitat for native coho and Chinook salmon.
Even though its productivity has decreased dramatically over the past 100 years, due to massive irrigation development and near-total lack of concern for impacts on the natural system, much of it can be restored if we citizens move to assure there will be enough clean, cool water in the stream for fish to live and reproduce.
The happy results
of water in the river
During this season of giving please help us keep the
Shasta River and the coho salmon safe.
We have done tremendous work this year and would so appreciate your support. Click here to read a special message about our successes and plans from Andy Marx.

To donate to this worthy cause please click here.
Our mission: restoration of Shasta River water quantity and quality for the benefit of wildlife and humanity.
Chinook salmon numbers in October 2021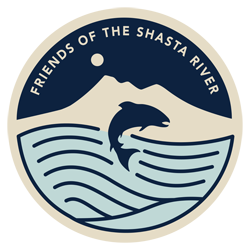 Friends of the Shasta River is now officially a 501c3 non-profit organization.
We may now begin raising funds to keep working for the river. Please think of helping the river with a donation.
Klamath water quality may be improving
According to the CA Water Resources Control Board, levels of the cyanobacteria that are toxic to fish, pets, and people, may have dropped somewhat in most of the river, where the water is now listed as "Caution required;" although Copco reservoir is still listed at "Danger" level. If this is accurate, it would be good news, since this bacteria killed more than 90% of Chinook smolts this year. Track water quality.