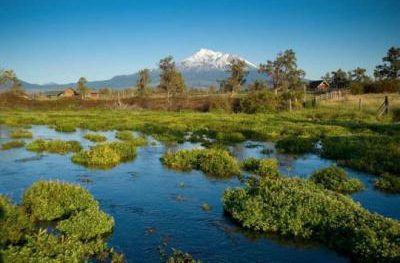 SGMA Update
Sustainable Groundwater Management Act
October 21, 2021

The Shasta Valley SGMA process is at an important point -- consultants have done their best to assemble and build on existing surface and groundwater data. They've written a plan that tries to meet state laws while also meeting the desires of the county Board of Supervisors (BOS) and staff. Comments on the draft plan are in.
At the Shasta SGMA meeting on 10/26 they will share with the groundwater advisory committee and the public the final version, as it will be submitted to the Department of Water Resources (DWR) in January for their review for consistency with state guidelines.
That's the official version. The rest of the story is … although the plan was supposed to be available for public review, major pieces of it weren't ready, so no one has seen the entire plan. A true review was not possible. Also the Shasta Valley is geologically and hydrologically complex. A consequence is that the plan is long, and the 45 days for review were simply not enough for anyone to do a proper job, especially if they had other duties in life.
Key areas seemed to get short shrift. State law mandates identification and protection of "groundwater dependent ecosystems." Doing a proper job of that would go a long way towards making sure groundwater levels remain high enough to feed the valley's many springs, including those in the bed of the river, invisible but absolutely essential as habitat for cold water fish like Fall Chinook, coho and steelhead. It would also guarantee sustaining surface flows for all uses–aquatic organisms of all sorts, and people reliant on surface water for irrigation. But time, cost and reliance on meager available data forced the planners to discard as "artifacts of irrigation" any seeps or small springs found within irrigated fields. We aren't told which seeps those are; their locations have not been shown.
Another weakness of the plan is its acceptance of additional lowering of the water table as a "buffer." Not a buffer to account for uncertainty, but a buffer to let us avoid difficult choices now.
One of the consequences of that may be domestic well users finding their wells no longer producing water. As it stands now their only recourse is to find the money to drill deeper, and hope the water they encounter is drinkable. A case where the victim has to pay for the misdeeds of overuse of the groundwater.
The Plan also fails to incorporate adequate measures to assure enough water reaches the surface to provide water for fish and wildlife. It instead targets the grossly inadequate flows seen for many years, rather than acknowledging that a mandated instream flow is coming before long, and some conceptual way to meet it should at least be touched on.
The Plan also predicates the essential needed additional studies on the securing of grant funds, rather than proportionally funding it based on water use. Receiving grant funds may or may not happen. Without additional studies, the 5-year update will have no new information to work with, so will be of little value. One might even suspect that application for grant funding could be sabotaged for just the purpose of avoiding the risk of developing a meaningful plan.
Overall, the strong desires of the BOS to avoid any change in their Wild West, business-as-usual approach to water use flavors the plan throughout, to the extent that it isn't really a plan–it contains few if any commitments to action, but is instead more of a study, with any real plan pushed off for the 5-year review, and no call for a conservative approach to issuing of new well drilling permits.
The good news is that it isn't over yet. All of us can still review the Plan, and prepare comments to be sent to DWR. Officially they will be accepting comments for 30 days sometime in early 2022. But we can all start now working on them, and even submit them here: https://sgma.water.ca.gov/portal/gsp/init/all (search for Shasta and see the "action" column on the far right).
We can't afford to let a weak, business-as-usual, no-management plan stand unchallenged. Nor can we afford to hope for the best at the 5-year review. Now is the time to weigh in.
See the plan (chapter by chapter)
---
Restoring Instream Flows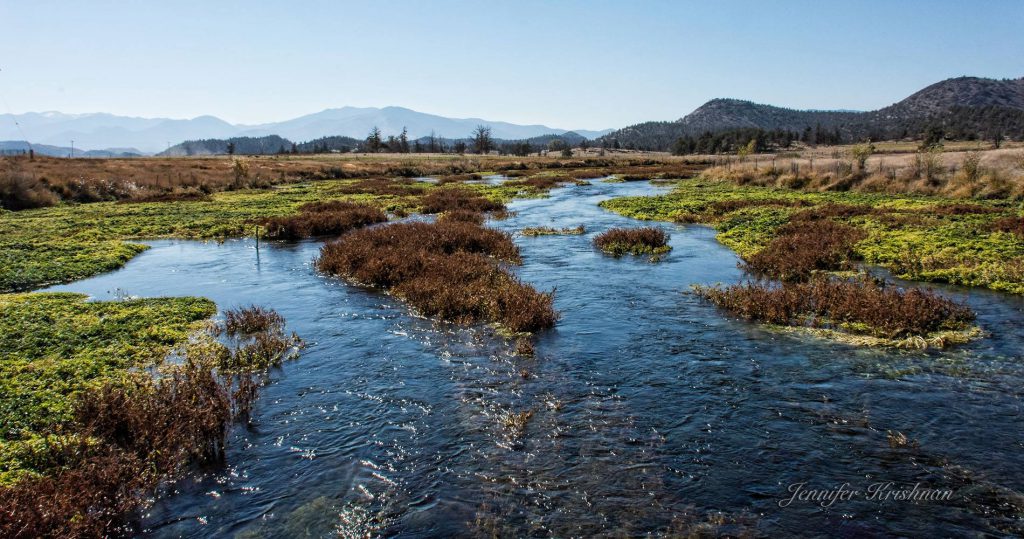 The Shasta River, a salmon-spawning tributary of the Klamath River of critical importance, is in crisis due to excessive agricultural diversions which take almost all of its cold spring water to grow low-value crops (hay for forage). Key to its revival–for salmon, other wildlife and people–is the restoration of instream flows with sufficient quantity and quality to allow for the recovery of salmon and other species. This project will work to promote and advocate for such restoration flows, and a better balance between competing uses of the Shasta's waters, through advocacy, research and documentation, and public outreach and awareness building.
SGMA
FOSR members are actively participating in Siskiyou County's planning to meet the California Sustainable Groundwater Management Act
The groundwater plan for the Shasta Valley is being rolled out chapter by chapter. The first 3 chapters have been presented and commented upon, including comments from Friends of the Shasta River. The County has said it will present succeeding chapters as they complete them between now and June 2021. As commenters, we need to look at it very closely to make sure the public won't be conned.
Anyone is welcome to email Matt Parker, Natural Resources Specialist, to get on the mailing list for the link to the virtual meetings and/or to submit comments: mparker@co.siskiyou.ca.us
California depends on groundwater for a major portion of its annual water supply, particularly during times of drought. This reliance on groundwater has resulted in overdraft and unsustainable groundwater usage in many of California's basins. The Sustainable Groundwater Management Act (SGMA) was enacted in order to halt overdraft and bring groundwater basins into balanced levels of pumping and recharge. Under SGMA, basins must reach sustainability within 20 years of implementing their plans.

If properly done, groundwater planning will go far to protect all groundwater uses, including in-stream flows that are the underpinning of the Shasta River. But if a "business as usual" approach slips through, it could be decades before that approach could be remedied. As citizen volunteers attending the planning meetings, FOSR members are providing steady input needed to protect the stream.
CA Climate Change Plan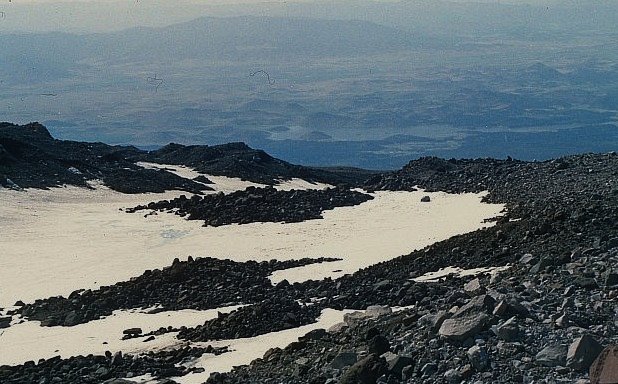 The state Water Resources Control Board (WRCB) is grappling with how to steer the use of all surface water, a public trust property of all the people, as we move into a time of major climate related changes in water availability. The plans being made today need to be forward-looking and conservative in a time of huge uncertainty, not just a tweaking of past efforts. FOSR is studying the WRCB staff report on future directions to take, and preparing very specific, tightly focused comments.

The photo above is the foot of Whitney Glacier on Mount Shasta, looking north into the Shasta Valley. Whitney and other glaciers feed the springs that sustain the river and fish. How will we respond as climate changes occur? The river needs effective voices speaking for it, if it is to survive.
---
River Cleanup Days
On November 27, 2020 (Black Friday), Friends of the Shasta River hosted our first volunteer river cleanup event. Rather than spending the beautiful Fall day shopping, watching TV or online, 15 people came out to the Shasta River canyon where we spent several hours hauling out trash at two locations. In all, we diverted over 600 pounds of trash from the river to the dump.