SGMA
FOSR members are actively participating in Siskiyou County's planning to meet the California Sustainable Groundwater Management Act
The groundwater plan for the Shasta Valley is being rolled out chapter by chapter. The first 3 chapters have been presented and commented upon, including comments from Friends of the Shasta River. The County has said it will present succeeding chapters as they complete them between now and June 2021. As commenters, we need to look at it very closely to make sure the public won't be conned.
Anyone is welcome to email Matt Parker, Natural Resources Specialist, to get on the mailing list for the link to the virtual meetings and/or to submit comments: mparker@co.siskiyou.ca.us
California depends on groundwater for a major portion of its annual water supply, particularly during times of drought. This reliance on groundwater has resulted in overdraft and unsustainable groundwater usage in many of California's basins. The Sustainable Groundwater Management Act (SGMA) was enacted in order to halt overdraft and bring groundwater basins into balanced levels of pumping and recharge. Under SGMA, basins must reach sustainability within 20 years of implementing their plans.

If properly done, groundwater planning will go far to protect all groundwater uses, including in-stream flows that are the underpinning of the Shasta River. But if a "business as usual" approach slips through, it could be decades before that approach could be remedied. As citizen volunteers attending the planning meetings, FOSR members are providing steady input needed to protect the stream.
CA Climate Change Plan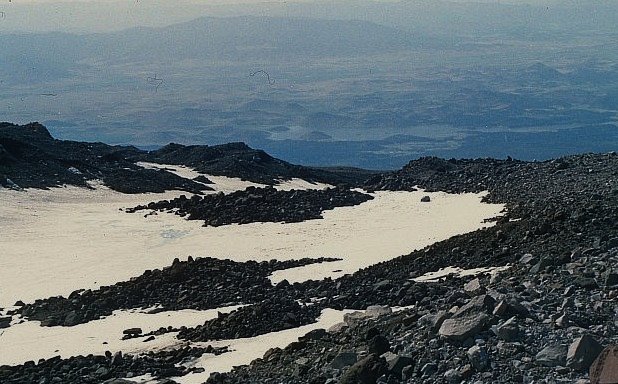 The state Water Resources Control Board (WRCB) is grappling with how to steer the use of all surface water, a public trust property of all the people, as we move into a time of major climate related changes in water availability. The plans being made today need to be forward-looking and conservative in a time of huge uncertainty, not just a tweaking of past efforts. FOSR is studying the WRCB staff report on future directions to take, and preparing very specific, tightly focused comments.

The photo above is the foot of Whitney Glacier on Mount Shasta, looking north into the Shasta Valley. Whitney and other glaciers feed the springs that sustain the river and fish. How will we respond as climate changes occur? The river needs effective voices speaking for it, if it is to survive.
---
River Cleanup Days
On November 27, 2020 (Black Friday), Friends of the Shasta River hosted our first volunteer river cleanup event. Rather than spending the beautiful Fall day shopping, watching TV or online, 15 people came out to the Shasta River canyon where we spent several hours hauling out trash at two locations. In all, we diverted over 600 pounds of trash from the river to the dump.